We participate in #ThinkTankPackaging: Disruptive Technologies
Sergio Velasco||Digital transformation|5 min read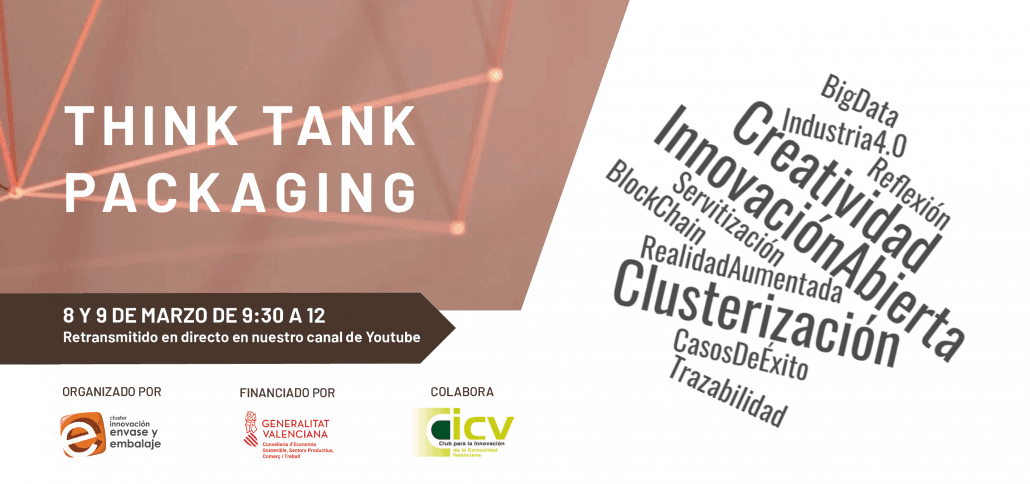 Conference organized by Cluster de Innovación de Envase y Embalaje in which to reflect on #technology #innovation and new #business models that will take place today and tomorrow.
Last March 9, in the second of the #ThinkTankPackaging Conference our CTO Sergio Velasco participated in the Disruptive Technologies session: application to packaging, together with Raúl Hussein, Director of SADA (Advanced Data Analysis Services) at ITI (Technological Institute of Informatics); Joaquín Carretero, Director of Industry Strategy at Nunsys; Alberto Gaspar, Co-founder and CEO of Robotics & Vision Technologies; and Javier Ferrer, CEO and co-founder of WITRAC.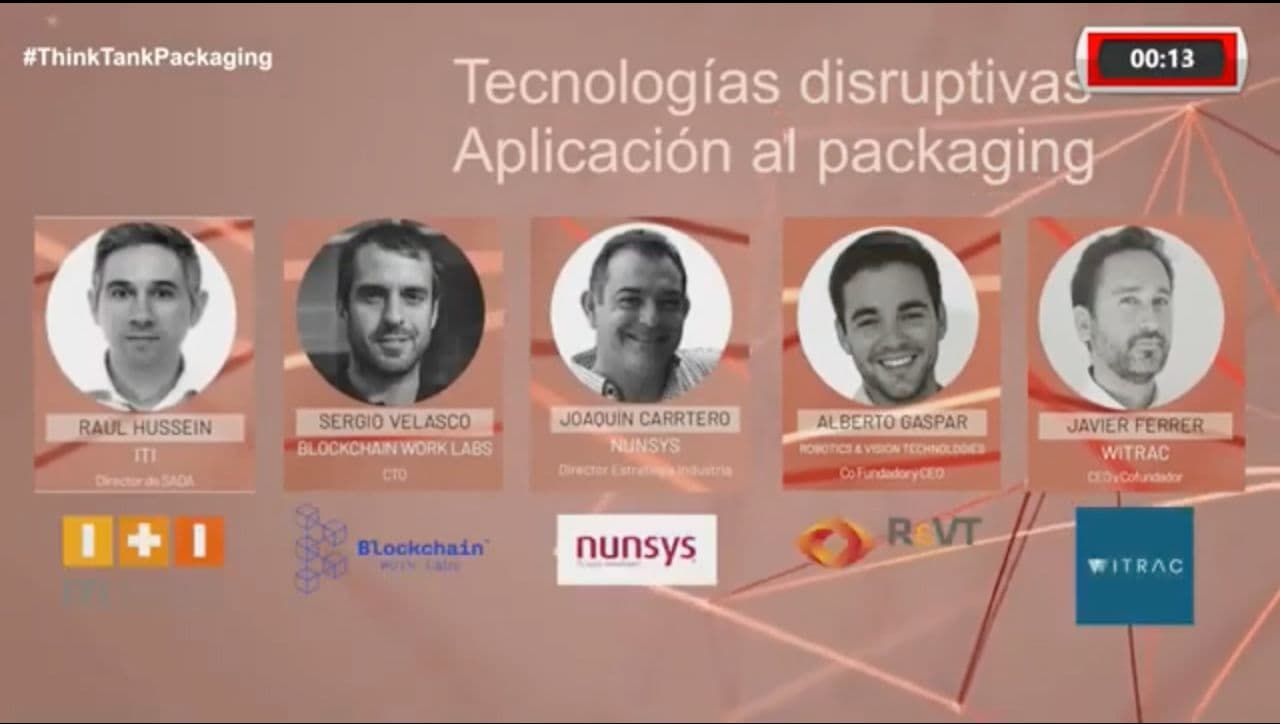 A very interesting session in which they reviewed emerging technologies (blockchain, artificial intelligence, big data, industry 4.0...) and how these are revolutionizing products and processes; and below we summarize the most important points discussed by Sergio Velasco with Blockchain Work Labs. It is also possible to access the content through this video starting at minute 00:13:44
What is blockchain technology and how it works
Blockchain technology, which could also be described as "digital notary" is quite recent, it started in 2009 and will be a revolution as a multi-sector technology as it will affect different sectors, and especially how value is transferred digitally.
It is a technology that works like a database, distributed, shared and in which only the information can be consulted, without the possibility of modifying or deleting it. Therefore, the information is immutable.
What advantages does it bring to the packaging sector?
The good thing that blockchain can add to the sector is that in any supply chain it adds a layer of trust and a layer of security in the sense that the data that is written in this shared database cannot be modified. The record is shared by different entities or companies.
We are sure that this information is immutable, and this, for the end user, greatly reinforces the confidence in the manufacturing process, through different elements that provide value, such as traceability and transparency.
Profitability and financing of blockchain technology
The step that allows an entrepreneur to take that leap forward or not is a critical part regarding the profitability and financing of blockchain technology.
From Blockchain Work Labs, because the technology is quite new, we have our own line of grants. When starting a project, we dedicate efforts to search and find grants with our own department, both at European, state and local level.
As it is innovative technology, and improves the productivity of the company, the success rate is usually high.
Why join blockchain technology?
With the events that have taken place in the history of technology, we see that they change the way we live, work and operate. These changes in technology have a direct relationship with competitiveness.
Currently with the use of the Internet, e-commerce, having a cell phone; we are accustomed to the digital world and this conditions the way in which we consume. As companies, we are in a global socio-economic context, competing at a global level.
Technology brings added value to processes; by applying technology, these are co-monetized, there comes a time when these processes are state of the art, in which there can be no margin, at that moment it is the new standard.
Companies that have not reached that state, are directly left out, because they have not digitally adapted to the new standard. We like to call this process "digital Darwinism".
The problem we have today is that the cycles of adaptation of these standards are shortening a lot, because due to the Internet and the increase in connection speed these cycles are accelerating, and this is key. A company is competitiveness, what you don't add, another company will do for you.